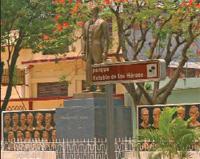 Retablo de los Heroes
Destination:
Granma
Open: Daily
Address: Calle Marti esq. a Amado Estevez. Granma Province. Cuba
Add Photo

Send email
Description
This bronze statue of Francisco Vicente Aguilera, the former mayor of Bayamo, was sculpted in 1954, and features a marble base. The statue is lined with 33 medallions in honour of outstanding Bayamo personalities.
Hotels next to Retablo de los Heroes Monuments
Villa Bayamo Hotel
Hotel Villa Bayamo, This hotel is located in the suburban area… ...more details here.
Airports next to Retablo de los Heroes
Manzanillo Airport


Sierra Maestra Airport (IATA: MZO, ICAO: MUMZ) is a regional airport that serves the town of Manzanillo in Cuba.