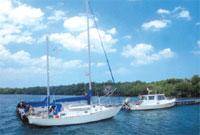 Cabo San Antonio Marina
Destination:
Pinar del Rio
Open: Daily
Address: Cabo de San Antonio, Pinar del Rio. Cuba
Telephone: (53 48)75 0123
Add Photo

Send email
Description
In the northwestern tip of the Guanacabibes peninsula, only 7 Km. away from the Roncali lighthouse, surrounded by the jungle and the ocean, you can find Marina Cabo de San Antonio, in an area known as Los Morros de Piedra. There are ecologic hiking trails, a wide variety of indigenous flora and fauna, caves, crevices, casimbas, lagoons and cenotes which never cease to amaze the visitor.
150 m long pier, 3.7m wide with minimum draft of 240 m length in extension. Mooring capacity for 4
Diesel fuel and Gasoline for Sale
Mooring services (water and electricity)
La Claraboya Snack bar-restaurant -Tienda / Shop
The possibility of lodging in Villa Cabo San Antonio, 4 Km. away
Airports next to Cabo San Antonio Marina
La Coloma


The airport resides at an elevation of 40 m (130 ft) above mean sea level. It has one runway designated 07/25 with an asphalt surface measuring 2,000 m × 45 m (6,562 ft × 148 ft). La Coloma Airport (Spanish: Aeropuerto "La Coloma") (IATA: LCL, ICAO: MULM) is an airport serving the city of Pinar del Río, in Cuba. It has no regular flights.
HOTELS IN THE DESTINATION