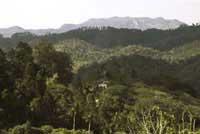 Massif of Guamuahaya
Destination:
Cienfuegos
Open: Daily
Address: Escambray Mountain. Cienfuegos. Cuba
Add Photo

Send email
Description
The most important mountainous group of Central Cuba. It is characterized by steep peaks and deep intramountainous valleys, by its exuberant vegetation, its endemic species of flora and fauna, waterfalls and natural pools, its cavernous systems and its natural pathways that run all over this landscape. In the Martin Infierno Cave, one of the biggest stalagmites in the world can be found with a height of 67.20 meters. El San Juan is the tallest summit of the Escambray, measuring 1156 mts. The most attractive zones are: El Nicho, Topes de Collantes, San Juan Peak, and the Hanabanilla dam. The most spectacular waterfalls are Los Desparramaderos and Tres Deseos in El Nicho, respectively. In Topes de Collante it is El Caburní, Rocío and Charco Azul. The visit to these mountains also permits that you get to know the rural life associated with coffee plantations and other agricultural activities
To view all Areas of Natural Interest in Cienfuegos click here.
To view all Areas of Natural Interest in Cuba, then click here.
Airports next to Massif of Guamuahaya
Cienfuegos Airport


The airport is at an elevation of 31 m (102 ft) above mean sea level; it has one runway designated 02/20 with an asphalt surface measuring 2,400 m × 45 m (7,874 ft × 148 ft). Jaime González Airport (Spanish: Aeropuerto "Jaime González"[2]) (IATA: CFG, ICAO: MUCF) is an international airport that serves Cienfuegos,] a city on the southern coast of Cuba, and capital of the province of Cienfuegos.