Romantic Museum
Destination:
Trinidad
Open: Daily
Address: Calle Fernando Hernandez Echemendia # 52, Trinidad. Cuba
Add Photo

Send email
Description
The former palace of Count Brunet, which first floor was built in 1740 and the second one ended in 1808, exhibits a wide variety of furniture and other decorative arts owned by the bourgeoisie of Trinidad during the 19 th century. The building itself faithfully represents the style of Cuban colonial architecture.
Hotels next to Romantic Museum Museums
Iberostar Trinidad Hotel
This jewel of colonial architecture, located in the heart of… ...more details here.
Brisas Trinidad del Mar Hotel
This recently built hotel is the biggest one located at Trinidad… ...more details here.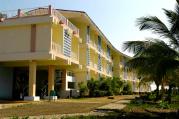 Club Amigo Costasur Hotel
This hotel is a two floors Beach complex with bungalows and… ...more details here.
Las Cuevas Hotel
Hotel Las Cuevas, mainly composed by cabins, has a privileged… ...more details here.
Club Amigo ancon Hotel
Ancon hotel is located at Peninsula of Ancon, closer to Trinidad… ...more details here.
Airports next to Romantic Museum
Trinidad Airport


The airport resides at an elevation of 38 m (125 ft) above mean sea level. It has one runway designated 06/24 with an asphalt surface measuring 1,801 m × 30 m (5,909 ft × 98 ft).Alberto Delgado Airport (Spanish: Aeropuerto "Alberto Delgado"[2]) (IATA: TND, ICAO: MUTD) is an airport serving Trinidad, a city in the province of Sancti Spíritus in Cuba.
Car rental offices next to Romantic Museum
Your first-hand experiences really help other travelers. Thanks!
Waly

REVIEW ABOUT ROMANTIC MUSEUM MUSEUMS
Excellent
Romantic Museum (Brunet Palace)
It is located in the old Palace of the Count Brunet, where there is s sample of the furniture and decorative arts with which the aristocracy of Trinidad fit out their mansions. Jewels. Porcelain. Silverware. Paintings. Sculptures. Decorative elements that belonged to the Spanish nobility.

levitan

REVIEW ABOUT ROMANTIC MUSEUM MUSEUMS
Excellent
Romantic Museum
Another stunning colonial mansion, the Museo Romantico is packed with 18th-century antiques and gives a fascinating glimpse into the lives of wealthy slave-owners during the town's mid-colonial 18th-century period. Located within the Palacio Brunet, which dates back to the 1740s, the Romantic Museum was established in the 1970s. An onsite shop provide souvenirs in the form of photographs and English-language books.

Uteh

REVIEW ABOUT ROMANTIC MUSEUM MUSEUMS
Excellent
Romantic Musuem
Museo Romantico is a great museum with authentic antiques and furniture on display in a gorgeous 1800's colonial mansion. It's a very worthwhile museum to see

Cara J

REVIEW ABOUT ROMANTIC MUSEUM MUSEUMS
Average
"Pretty insight into the way the rich lived "
We were granted our own English guide for a group of three on tour of Cuba which was excellent - and didn't happen at other places. But basically this is a tour of old western artefacts held at the museum in roughly a layout of how a house in the 1800s would have been. There was an extra charge if... More

Happy-seniors2

REVIEW ABOUT ROMANTIC MUSEUM MUSEUMS
Average
"Just O.K. "
We liked the building and its location but when it came to the staff that was another thing! In almost every room there was a lady that wanted to explain everything but either to get a tip or to sell us something that she had made. After a while,it got on our nerves!

Jimtraj

REVIEW ABOUT ROMANTIC MUSEUM MUSEUMS
Very good
"Days of the past "
In Plaza mayor a very well preserved colonial house (still renovating the paintings of some walls) of a wealthy family. Atmosphere of another era. What to say about the delicately painted walls, the furniture, the every day utensils and the works of art? You should see it by yourself with guide or not!

Libuse_H

REVIEW ABOUT ROMANTIC MUSEUM MUSEUMS
Excellent
"Good furnished "
One of the best museum in Cuba. Has a lot of old furniture and a lot of interesting things. You can also see the bathroom and the kitchen with dishes. From the balcony there is very nice view of the city, the hills and the sea.

George3105

REVIEW ABOUT ROMANTIC MUSEUM MUSEUMS
Excellent
"Museum of Romance "
gives you an idea of the way of living in those days (if you were rich), the items used in the houses, the way the houses were built. It is worthwhile visiting this museum

Ozless

REVIEW ABOUT ROMANTIC MUSEUM MUSEUMS
Excellent
"Wonderful old colonial house "
We really enjoyed our visit to this restored old house built for a sugar baron. We arrived early to beat the tour groups and had the house virtually to ourselves. Some of the staff speak some English and are only to happy to explain some more about the house's history and the family that lived there. It is filled with... More

famper

REVIEW ABOUT ROMANTIC MUSEUM MUSEUMS
Excellent
"A treasure Trove "
This is an amazing place full of amazing things! You could happily spend hours just browsing if you could , rivals any antique shop in UK

RonWamberal

REVIEW ABOUT ROMANTIC MUSEUM MUSEUMS
Excellent
"Beautiful period house "
Get here early before 11 as tourist buses tend to fill up the house. Fascinating period style home with wonderful furniture. Close to the plaza so it is easy to see the museums (of which there are many) within a morning.

chrisbracknell

REVIEW ABOUT ROMANTIC MUSEUM MUSEUMS
Excellent
"a beautiful place "
A museum which recreates a colonial house with beautiful furniture and objects. It is well worth a visit!

Brendan_and_BeckyJ

REVIEW ABOUT ROMANTIC MUSEUM MUSEUMS
Excellent
"Astonishing collection! "
We stumbled upon this museum which was packed with priceless objets d'art, and were escorted personally by an English-speaking, knowledgable and friendly guide. The most striking thing perhaps was that there is nothing (apart from your own good manners) to stop you touching these historic pieces. Guides are also artisans who will discreetly offer you the opportunity to purchase some... More