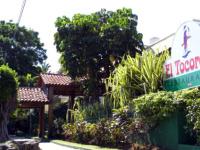 El Tocororo
Destination:
Havana City
Open: Daily
Address: Calle 18 esq. a 3ra., Miramar, Havana City. Cuba
Telephone: (537) 2042209
Add Photo

Send email
Description
Located in the are of Miramar, just a few steps from 5th. Avenue and a few minutes from downtown. On-the-spot custom preparation of food, with the widest choice of dishes on order
To view all Restaurants in Havana City click here.
To view all Restaurants in Cuba, then click here.
Hotels next to El Tocororo Restaurants
Click for more Hotels
Melia Habana Hotel
The Melia Habana hotel is ideal for incentive and congress travelers,… ...more details here.
Copacabana Hotel
The hotel is located in the residential neighborhood of Miramar,… ...more details here.
Chateau Miramar Hotel
The Boutique Chateau Miramar Hotel is located in the Havana… ...more details here.
H10 Panorama Hotel
Built by the sea, the Panorama Hotel is located in the residential… ...more details here.
Memories Miramar Hotel
The Occidental Miramar Hotel is located in the residential area… ...more details here.
Airports next to El Tocororo
Havana Airport


José Martí International Airport (IATA: HAV, ICAO: MUHA), sometimes known by its former name Rancho-Boyeros Airport, is located 15 km (9 mi) southwest of Havana, Cuba, and is a hub for Cubana de Aviación, Aerogaviota, and Aero Caribbean, and former Latin American hub for Aeroflot Soviet Airlines.[2] It is Cuba's main international and domestic gateway, and serves several million passengers each year. The airport lies in the municipality of Boyeros and connects Havana with the rest of the Caribbean, North, Central and South America, Europe, and one destination in Africa. It is named in memory of patriot and poet José Martí. In the 1960s the airport was bombed by B-26 aircraft from Brigade 2506, a CIA-sponsored group of Cuban exiles attempting to liberate Cuba from Fidel Castro. Cubans are not allowed to own aircraft or use the airport for either private or commercial flight. Only government-owned aircraft are allowed to use the facilities. There are currently four passenger terminals in use at the airport, plus a freight terminal.[3] Terminal 1 is used primarily for domestic flights. Terminal 2 opened in 1988, primarily for charter flights to the United States. Ten years later on April 27, 1998, the International Terminal 3 was opened by Canada's then-Prime Minister, Jean Chrétien, and former Cuban president, Fidel Castro. International Terminal 3 offers many modern facilities and jetways that the former international Terminal 1 did not provide. Terminal 5 is operated by Aerocaribbean. Today, Copa Airlines is the foreign airline with most flights to the airport, operating 34 flights a week (roughly 5 daily flights) from Panama City, Panama, and Bogota, Colombia. The airport is operated by Empresa Cubana de Aeropuertos y Servicios Aeronáuticos (ECASA).

Playa Baracoa Airport


Playa Baracoa Airport (IATA: UPB, ICAO: MUPB) is a regional airport west of Havana, Cuba that serves regional flights in Cuba. It is located in the village of Playa Baracoa, part of the municipality of Caimito, Artemisa Province. The airport is an inactive Cuban Revolutionary Armed Forces air base and home to Air Defense Command and VIP transport.
Your first-hand experiences really help other travelers. Thanks!
Lia

REVIEW ABOUT EL TOCORORO RESTAURANTS
Very good
Good
When it was opened by Erasmo, the Tocororo was one of the first up-market restaurants in Havana. It remains an excellent option if you have the time for an elaborate lunch within a tropical garden replete with piano player by day and jazz band by night. Steak and lobster are the real house specialities and are done well. The Tocororo is also the location for Havana's only Japanese restaurant; located to the left as you enter the main restaurant, which serves good sushi, sashimi and tempura and a new Tapas bar which has live music until 2am.
HOTELS IN THE DESTINATION