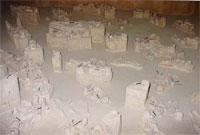 Chorro de Maita Musuem
Destination:
Holguin
Open: Daily
Address: Cerro de Yaguajay. Banes. Holguin, Cuba
Telephone: (5324) 430132
Add Photo

Send email
Description
It is the result of an exhaustive local archeological research that has taken more than 80 years. It constitutes the most important discovery in Cuba regarding an aboriginal settlement. Thus, the site has been declared National Monument. We strongly recommend the visit.
Hotels next to Chorro de Maita Musuem Museums
Airports next to Chorro de Maita Musuem
Holguin Airport


Frank País Airport (IATA: HOG, ICAO: MUHG) is an international airport that serves the city of Holguín in Cuba. It bears the name of Cuban revolutionary Frank País. The airport resides at an elevation of 4 m (13 ft) above mean sea level.[2] It has one runway designated 09/27 with an asphalt surface measuring 1,803 m × 44 m (5,915 ft × 144 ft)
Car rental offices next to Chorro de Maita Musuem
Restaurants next to Chorro de Maita Musuem
Your first-hand experiences really help other travelers. Thanks!
6raffi

REVIEW ABOUT CHORRO DE MAITA MUSUEM MUSEUMS
Poor
"Disappointing very stark and sparse. "
1 room with very little there we payed way over the odd's for entry and walked around a gantry of a 60sq mt room and that was it.. .

Keithyboy42

REVIEW ABOUT CHORRO DE MAITA MUSUEM MUSEUMS
Poor
"Indian Village "
Visited this village a few weeks ago. It is very interesting if not a little bit cheesey. My only complaint would be that the Indians are at you all the time to buy something from them. I purchased a trinket being told it was specifically made by them. Only to discover hundreds of them available in the market. Also although... More

bas k

REVIEW ABOUT CHORRO DE MAITA MUSUEM MUSEUMS
Average
"taino people museum "
This small Taino indian museum is in the green countryside above Guardalavaca beach. It can be reached by bike from the resorts and after the museum there are nice walks in the forests around the area.

tooboogaloodoo

REVIEW ABOUT CHORRO DE MAITA MUSUEM MUSEUMS
Average
"Cheesy yet interesting "
Visited as part of a mixed tour... they charge you 5 CUC to take photos in the "museum" which is basically a room with the artifacts and the skeletons and a further 1 CUC across the road to take photos in the replica village. In the museum itself you are at the mercy of your tour guide. If they know... More

deewhit

REVIEW ABOUT CHORRO DE MAITA MUSUEM MUSEUMS
Very good
"Educational "
your guide at the museo (archeology museum) is Luis Quinones (accent over the first n)....his english is quite good and he is happy to answer questions and share info on the indians settling the area.. His sister also runs a casa in town so ask him to arrange a place for you to stay.

Jimtraj

REVIEW ABOUT CHORRO DE MAITA MUSUEM MUSEUMS
Very good
"Small but interesting "
An interesting place to visit to see the burial customs of the indigenous population of Cuba before the Spanish invasion.Nice arrangement of the findings.

BettyLali

REVIEW ABOUT CHORRO DE MAITA MUSUEM MUSEUMS
Very good
"Chorro De Maita "
We went to the museum on an excursion and paid 5cuc to go into this fascinating place. The Cubans aren't like other museum curators so our guide told us about this site. Really interesting facts about the discovery of 108 bodies of which 56 are still at the site encased in white plaster of some sort. Most were discovered with... More

CarolMacKay60

REVIEW ABOUT CHORRO DE MAITA MUSUEM MUSEUMS
Very good
"Indian Village interesting "
I love to learn the history of an area- this was an archelogical display of about 30 skeletons. We had hired a taxi so were not a part of the tour. A gentleman spoke with us, and we were given a handout in English. We found it interesting. The reconstructed village of the period the natives were living when Columbus... More

travelBUG1953

REVIEW ABOUT CHORRO DE MAITA MUSUEM MUSEUMS
Very good
"Boney Tour "
At the museum there is a charge of 5 CUC to take photo's in the museum. Some paid, some did not, but still took photos. Consider it a donation to the cause. The museum itself is a collection of archeological finds, left there for all to see?.kinda of a boney collection. It's interesting, probably more interesting if your guide was... More

julian d

REVIEW ABOUT CHORRO DE MAITA MUSUEM MUSEUMS
Excellent
"life in banes "
a wonderful part of history, well worth seeing. Banes provides the tourist of a good look of everyday life. walk the streets, go the la vicario to eat, las 400 rojas to drink mingle with the locals and enjoy, but there are no taxis, you need to arrange to be picked up or have someone call a taxi from guadalavaca.... More

SkateMinsteronSea

REVIEW ABOUT CHORRO DE MAITA MUSUEM MUSEUMS
Excellent
"Interesting, with such lovely people! "
The Cubans have really tried hard here - from the unearthed graves of skeletons and artefacts across the road to the mock up of the ancient village which once stood on the site. The 'come to life' show was a hoot but held a serious side which was explained to us by a helpful guide. Great views down to the... More

Canadian_Guy1000

REVIEW ABOUT CHORRO DE MAITA MUSUEM MUSEUMS
Excellent
"See the past history (the skeletons) and experience a Cuban village "
During our stay at the Amigo, we took a few trips from the resort. As there was a hop-on-hop-off open-air, double decker bus stopping at every nearby resort, we hopped on and went to the Museo Chorro de Maita (however, we did NOT visit the 15th century Arawakan Indian village located across the road from the museum). It is burial... More
HOTELS IN THE DESTINATION